New Août
JFK : omerta sur un coup d'état - Elle persiste... Les médias l'entretiennent
En qualité d'observateur des Etats-Unis où il vit périodiquement, Philippe J. Cassard porte un regard critique sur l'entreprise de distorsion de la vérité autour de l'assassinat du président Kennedy ; une loi du silence entretenue, notamment, par les médias américains, même au-delà du cinquantième anniversaire de sa mort. Il nous livre un récit concret qui instruit le lecteur moins sur les rumeurs, qui ont alimenté les nombreuses théories du complot, que sur le nombre impressionnant des faits étayant les preuves irréfutables d'un coup d'Etat.
Eclairé par ses voyages sur le lieu de l'assassinat et par sa participation à plusieurs conférences sur le sujet, à la rencontre d'experts, Philippe J. Cassard tente d'apporter des réponses à ce drame historique dont la dissimulation des faits perdure.
Fiche technique
Résumé :
A Vancouver, en Colombie-Britannique, un professeur d'histoire fait sa thèse sur l'assassinat de Robert Kennedy. Il est persuadé que la mort brutale de ses deux parents successivement en 1967 et 1968 est liée à l'assassinat du jeune politicien américain en juin 1968. Son enquête l'amène à découvrir les liens tissés par son père et les services secrets britanniques durant la Résistance.
ISBN : 2072697107
Éditeur :
Gallimard
(17/08/2017)
Un désastre éclatant - Fidel Castro, John Kennedy et la baie des Cochons
Un désastre éclatant retrace l'invasion de la baie des Cochons, l'une des opérations secrètes les plus chaotiques et désastreuses menées par les Etats-Unis pendant la guerre froide. A partir de documents de la CIA longtemps inaccessibles au public et de notes privées, Jim Rasenberger relate avec brio la création et à l'exécution de ce plan voué à l'échec.
date de parution : 15/6/17 Omblage Editions
JFK Vérités et légendes de Georges Ayache
Kennedy. Vérités et légendes
Georges AYACHE
ISBN : 9782262069773
210 pages
23/03/2017
Il est difficile d'imaginer John Fitzgerald Kennedy à l'âge de 100 ans. C'est pourtant l'âge qu'il aurait eu le 29 mai 2017, si le destin en avait décidé autrement. Le temps est venu de faire la part des choses entre le mythe du jeune président flamboyant (46 ans), mort tragiquement, et la légende noire du fils de famille dépravé, soutenu par la mafia.

A peine tombé sous les balles à Dallas, le 22 novembre 1963, à 46 ans, John F. Kennedy entrait dans l'Histoire. Jusqu'à ce que les révélations sur les turpitudes du clan familial, l'amateurisme de l'équipe présidentielle, ses frasques sexuelles ne transforment le mythe en légende noire. JFK a-t-il été un héros de la guerre du Pacifique ? Est-il entré en politique par défaut ? Ce yachtman cachait-il une santé médiocre ? Quels ont été les rôles de Joe, son père, et de la mafia, dans sa carrière ? Quel est son bilan face à l'URSS, à Cuba et au Vietnam ? Sur les droits civiques des Afro-Américains ? A-t-il été victime d'un complot ?
Un peu plus de cinquante ans après sa disparition tragique, le temps est venu de dresser un tableau objectif des mille jours du trente-cinquième président américain et un portrait dépassionné de ce Janus aux allures de play-boy.
L'amour secret de Kennedy Broché – 12 avril 2017 de Scott Farris
Présentation de l'éditeur
Après avoir remporté le concours de Miss Danemark à 15 ans, en 1928, Inga Arvad se tourne vers le journalisme et épouse un diplomate égyptien rencontré aux Folies Bergères.
Journaliste pour un quotidien de Washington, elle assiste au mariage d'Hermann Göring en 1935, et y fait connaissance d'Adolf Hitler. Subjugué par sa beauté nordique, Hitler lui accorde plusieurs entretiens exclusifs avant de l'inviter dans sa loge pour assister aux jeux Olympiques de Berlin.
De retour au Danemark, elle divorce pour bientôt se remarier avec le réalisateur hongrois Paul Fejos. Elle est toujours mariée avec ce dernier quand elle se rend aux États-Unis où, dès novembre 1941, elle tombe amoureuse de John Kennedy, enseigne de vaisseau au QG de l'US Navy…
Mais le FBI l'a à l'œil, d'autant qu'une photo d'elle en compagnie d'Hitler a été mise au jour. À l'initiative de J. Edgar Hoover, qui la suspecte d'être une espionne nazie, son téléphone est piraté, son appartement mis sur écoute… Même ses ébats avec le futur président seront enregistrés !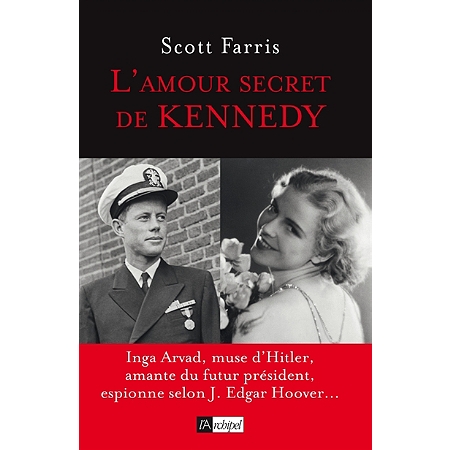 Détails sur le produit
Broché: 360 pages
Editeur : Archipel (12 avril 2017)
Collection : Témoignage, document
Langue : Français
Mary Meyer, la femme qui en savait trop
Maîtresse de John Fitzgerald Kennedy, elle est assassinée un an après le président. Un livre reconstitue la vie et la mort de cette femme mystérieuse.
Il n'existe qu'une seule photo où ils apparaissent ensemble, tout sourire. À gauche, John Fitzgerald Kennedy, à droite, une jolie femme blonde avec lunettes de soleil. Un couple solaire. Elle s'appelle Mary Meyer. Elle appartient au Tout-Washington, femme divorcée du numéro 2 de la CIA, belle-sœur de Ben Bradlee, figure mythique du Washington Post et… maîtresse de John Kennedy. Mary Meyer est LE grand amour du président, le plus secret aussi.
Le 12 octobre 1964, près d'un an après l'assassinat de Dallas, elle se promène sur les berges du Potomac, à quelques centaines de mètres de sa maison de Georgetown. Elle est abattue de deux balles de revolver. Son meurtrier ne sera jamais identifié.
C'est sur le mystère de ce meurtre qu'enquête Jean Lesieur : serait-ce parce qu'elle ne croyait pas un mot des conclusions de la commission Warren désignant Lee Harvey Oswald comme unique assassin de son amant ? Et qu'elle gênait à le dire trop haut et trop fort ? Et qu'elle en savait trop ?
L'auteur, expert en affaires américaines, n'est en rien un complotiste. Il ne prétend pas révéler qui a tué JFK et Mary Meyer. Quoique… Ce qu'il raconte, avec force témoignages et scènes inédites sur le rôle de la CIA dans cette double affaire, est plus que troublant. Inquiétant. Glaçant. Et diablement romanesque, aussi.
Un meurtre à Georgetown, de Jean Lesieur (Editions L'Artilleur) 208 pages 18 euros.
Le journaliste Jean Lesieur a mené une contre-enquête pour dénouer enfin l'affaire Marie Meyer.
Invité de l'émission RTL de Jacques Pradel du 18 janvier 2017 : Jean Lesieur, journaliste et auteur du livre « Un meurtre à Georgetown, contre-enquête sur la mort de Mary Meyer » qui parait aujourd'hui aux éditions du Toucan.
Pour en savoir plus voir le billet publié sur le site de l'émission L'heure du crime
Parution du livre le 18 janvier 2017 – Beaucoup de faits et d'experts le suggèrent avec force : Allen Dulles et des agents de la CIA ont joué un rôle décisif dans l'assassinat de Dallas, le 22 novembre 1963. Parmi ces faits, le meurtre à ce jour non élucidé, au cœur de Georgetown, d'une femme inconnue du grand public et qui fut -bien plus que Jackie, bien plus que Marilyn- le grand amour de John Kennedy.
Mary Meyer, assassinée deux jours avant son 44ème anniversaire en 1964, était cette femme. Artiste, idéaliste, pacifiste, épouse divorcée d'un des principaux collaborateurs d'Allen Dulles à la CIA, elle n'a jamais cru aux conclusions de l'enquête officielle de la Commission Warren faisant de Lee Harvey Oswald le seul et unique assassin de JFK. Elle proclama ses doutes très haut et très fort. Trois semaines après la publication du rapport, elle était assassinée dans des conditions intrigantes.
Pendant près d'un demi-siècle où, comme étudiant à Columbia University puis comme journaliste, j'ai suivi la petite et la grande histoire des États-Unis d'Amérique, j'ai entendu parler, de loin en loin, de cette femme, de sa mort. Je me suis souvenu de lectures, innombrables, de conversations avec des « initiés généralement bien informés » comme on dit, y compris avec d'anciens patrons ou agents de la CIA -Richard Helms, William Colby, Jim Woolsey, Bob Gates- que j'ai pu rencontrer en tête à tête.
Une vérité -la vérité?- sur l'assassinat de Mary Meyer a surgi. Et selon mon ami Stephen Kinzer du NY Times, auteur de la biographie la plus complète d'Allen Dulles : « Jean, now you know the truth . »
Jean Lesieur a été journaliste au Point, à L'Express et dans plusieurs grands journaux français avant de diriger la rédaction de France24. Il a fait ses études et vit en grande partie aux États-Unis.
Éditions du Toucan
Une vidéo également disponible sur le même sujet The Murder of Mary Pinchot Meyer – YouTube
Comment Jackie Kennedy a fait entrer son mari dans l'histoire des Etats-Unis
Les 4 jours qui se sont écoulés entre l'assassinat de John Fitzgerald Kennedy et son enterrement, ont été les plus importants de la vie de Jackie Kennedy. Je reviens sur ce moment historique dans mon livre qui, à l'instar du film "Jackie la première dame", met en valeur un personnage important mais méconnu.
Maud Guillaumin, Jackie les 4 jours qui ont changé sa vie, l'Archipel.
Kennedy, une vie en clair-obscur
La vie de John Fitzgerald Kennedy n'a été qu'ombres et lumières ; des lumières d'un incroyable éclat et des ombres d'une noirceur inquiétante, comme autant de signes d'une destinée tragique. Véritable caméléon, JFK aura toute sa vie admirablement joué le rôle que d'autres lui ont attribué, et en premier lieu son père. Un père à l'ambition dévorante qui, tel un démiurge, façonne les garçons du clan en hommes de pouvoir. Mais JFK n'est pas qu'une simple marionnette, il est doté d'une grande intelligence et d'un charisme hors du commun, rien ni personne ne lui résiste, surtout pas les femmes. Il transforme le médiocre en excellence, un corps malade en un corps triomphant… Grâce à de nouveaux éléments peu connus du public français et refusant tout autant l'idolâtrie que le sensationnalisme, Thomas Snégaroff dresse le portrait sensible d'un homme dont le destin continue, un demi-siècle après sa mort, de nous fasciner.
Ich bin ein Berliner: Discours officiel de 1963
John Fitzgerald Kennedy: 35e président des États-Unis (1917 – 1963)
Discours de John Fitzgerald Kennedy sur la situation de Berlin, prononcé sur les marches de l'hôtel de ville de Berlin-Ouest, le 26 juin 1963.Ce document est un discours officiel. Celui-ci a été prononcé deux ans après la construction du mur de Berlin. Son auteur se trouve alors dans la partie de la ville qui est sous le contrôle des alliés du bloc de l'Ouest.
It is not a theory that the CIA is still keeping secrets about the assassination of President John F. Kennedy on November 22, 1963. It is a documented fact.
Here is what is known about seven key JFK files — containing more than 3,000 pages of material — that the CIA is still keeping out of public view until October 2017.
1) The files of William King Harvey,
Bill Harvey was one of the most highly regarded CIA officers of his generation. One colleague described him as "a man without sentiment, considerable stamina, great determination [and] high-skilled" and "a gun nut." His contempt for President John F. Kennedy and Attorney General Robert Kennedy was not disguised.
When the CIA wanted to create an organization capable of carrying out assassinations in 1960, they gave it the code name of ZR-RIFLE and put Harvey in charge.
When Harvey's CIA colleague John Whitten was asked by investigators why Harvey might have told his wife to destroy his papers after his death, Whitten replied, "He was too young to have assassinated McKinley and Lincoln. It could have been anything."
According to the National Archives online JFK data base, the CIA retains a 123-page file on Harvey's operations.
2) David Atlee Phillips's operational files.
David Phillips was a trust fund kid from Fort Worth, Texas, who was recruited into the CIA in the 1950s and won a medal for his clever work in the CIA's overthrow of the government of Guatemala in 1954. With Howard Hunt, Phillips went on to play a leading role in the CIA's failed effort to invade Cuba at the Bay of Pigs In April 1961.
Phillips had an interesting role in the JFK story. Working undercover in Mexico City in 1963, Phillips was involved in the pre-assassination surveillance of Oswald. There is also a credible but uncorroborated report from a Cuban who worked with the CIA in 1963 who said he saw Phillips in the company of Oswald in Dallas in September 1963.
Phillips went on to become the chief of CIA operations in Latin America. Upon his retirement in 1975, he established himself as one of the most prominent public defenders of the CIA. To defend the agency's reputation, he founded an organization, the Association of Foreign Intelligence Officers, which still exists today.
When Congress re-opened the JFK investigation in 1976, Phillips's inconsistent, inaccurate, and evasive answers to questions about Oswald prompted JFK investigator Gaeton Fonzi to allege that Phillips was guilty of perjury in the case of the murdered president.
Phillips denied it but he did say late in life that he thought JFK was killed by unnamed "rogue" CIA officers.
Phillips, who died in 1987, also knew how to arrange an assassination. In 1998, the non-profit National Security Archive obtained and posted CIA documents showing that Phillips, at the direction of CIA director Richard Helms and President Nixon, had worked with ultra-right-wing Chilean military officers responsible for an assassination in October 1970.
A search of the online JFK database of the National Archives shows that the CIA retains four files containing 606 pages of material on Phillips,
3) The files of Anne Goodpasture
Anne Goodpasture was a career CIA officer who served in 1963 as the top aide to Winston Scott, the longtime chief of the agency's station in Mexico City. She also worked closely with David Phillips.
When the CIA's photo and audio surveillance monitors picked up on the curious actions of a man identifying himself as "Lee Oswald" in September and October 1963, the reports were sent to Goodpasture. Thus Goodpasture became acquainted with Oswald's political views, personal history and contacts seven weeks before JFK was killed.
When first questioned by JFK investigators in the 1970s, Goodpasture denied that the Mexico City station had tapes of Oswald's phone calls. She later changed her story and admitted, under oath, her role in disseminating the tapes after the assassination.
According to the National Archives online JFK data base, the CIA has a 286-page file of Goodpasture's operational activities that has never been made public.
4) Files on the interrogation of Yuri Nosenko
Yuri Nosenko was an officer in the Soviet KGB who defected to the United States in April 1964, shortly after the assassination of JFK. Nosenko said that he had seen the files that the KGB compiled on accused assassin Lee Harvey Oswald in his two and a half year residence in the Soviet Union between 1959 and 1962. The Soviet intelligence service had not recruited or used him as an agent, Nosenko said.
Deputy CIA Director Richard Helms told Chief Justice Earl Warren that he could not vouch for the accuracy of Nosenko's claims exculpating the KGB. This left open the possibility that Nosenko was a false defector sent by the Soviet Union to obscure its role in JFK's assassination.
According to the CIA' s website, Helm said, "It did strike me at the time that it would be a great mistake for the Warren Commission to shape its findings on the basis of a statement made by a man whose bona fides we could not establish."
Yet what the CIA learned from its interrogation of Nosenko remains secret 50 years later.
According to the National Archives' online JFK data base, the CIA has 36 files on the interrogation of Nosenko, amounting to 2,224 pages of material. None of these records have ever been made public.
Was Nosenko telling the truth? Or lying? The CIA doesn't want you to know.
5) Howard Hunt's operational files.
E. Howard Hunt was a career CIA officer known for his prolific prose and conservative politics. In 1961, he was a leader of the CIA's failed effort to invade Cuba at the Bay of Pigs. Embittered by what he regarded as JFK's failure to support the invasion, Hunt wrote a book "Give Us This Day," which castigated JFK's Cuba policy as "shame-faced."
In 1963 he worked at CIA headquarters in Washington. He was close to David Phillips.
Hunt became famous in 1972 when he was arrested for running a burglary team breaking into the offices of the Democratic Party in the Watergate office complex in Washington. Hunt and the burglars were paid and apparently directed by President Richard Nixon and his aides. In the resulting scandal, Hunt all but blackmailed the CIA by threatening to talk in court about what he described as "numerous highly Illegal conspiracies" in which he had participated.
Later in life Hunt made cryptic remarks about a possible CIA plot to kill JFK in 1963 that he called "the Big Event." Hunt's comments can be seen and heard on YouTube, Hunt was convicted burglar and a scoundrel so his testimony has to be handled with care.
Was Hunt involved in a JFK conspiracy?
The question cannot be answered definitively because the CIA retains six files containing 332 pages of material on Hunt, according to the National Archives' online JFK data base,
6) The files of David Sanchez Morales
David Morales was a career CIA officer who served as the chief of operations at the CIA's Miami station in 1963 where he worked with David Phillips and Howard Hunt. He later served in Laos and Vietnam where he gained a reputation as a skillful and deadly soldier.
In retirement, Morales did not often speak of his CIA exploits but when a friend referred to Kennedy's assassination, he reportedly said, "We took care of that son of a bitch, didn't we?"
According to the National Archives' online JFK data base, the CIA has a 61-page file on Morales that has never been made public.
7) The files of George Joannidess.
In 1963, Joannides, an undercover officer, worked for David Phillips and he worked with David Morales. His job title was chief of psychological warfare operations at the CIA's Miami station; his job was running agents.
Joannides handled the CIA's contacts with the Cuban Student Directorate, an anti-Castro exile group whose members tangled with Oswald in New Orleans in the summer of 1963. The group, responsive to CIA discipline, publicized Oswald's pro-Castro ways before and after JFK was killed.
Yet, as the New York Times reported in 2009, the CIA did not tell the Warren Commission that the CIA, via Joannides, had a financial relationship with Oswald's anti-Castro antagonists.
When Congress reopened the JFK investigation in 1978, the CIA called Joannides out of retirement to serve as liaison to investigators. He revealed nothing about what he knew of contacts between Oswald and his agents, which HSCA general counsel G. Robert Blakey said constituted obstruction of Congress. In 1981 Joannides received the Agency's Career Intelligence Medal. He died in 1990.
In the course of my lawsuit seeking Joannides's records, the CIA acknowledged that it retains more than 50 documents about Joannides's actions in 1963 and 1978 that it will not make public — for reasons of "national security."
———
Jefferson Morley's new ebook, CIA and JFK: The Secret Assassination Files, available on Amazon, provides the fullest account yet of the JFK records that the CIA is still concealing in 2016 and why they should be made public in October 2017.
Date de dernière mise à jour : 28/09/2017