Contact
Desomer yvan
Braine l'alleud
Belgique
Statistiques
Aujourd'hui
0 visiteurs - 0 pages vues
Total
288985 visiteurs - 805881 pages vues
Contenu
Nombre de pages : 288
Anniversaire de la mort de JFK : ce sera la guerre des biopics
Deux films sur l'assassinat de Kennedy entrent en concurrence à Hollywood.
Nous vous parlions en août dernier de Parkland, un long-métrage produit par Tom Hanksqui relatera l'assassinat de John Fitzgerald Kennedy à travers plusieurs points de vue. Première réalisation du scénariste Peter Landesman, le film est actuellement en tournage, et IMDb indique que Zac Efron, Jacki Weaver, Paul Giamatti ou encore Billy Bob Thornton seront de la partie.
Variety nous apprend à présent qu'un autre projet vient d'être lancé par Ryan Page, lui aussi scénariste et metteur en scène : Dallas in Wonderland. Présenté comme "un thriller relatant une conspiration", le long-métrage reviendra également sur les dernière heures du président américain, le 22 novembre 1963. Une fois JFK assassiné, le film suivra un réalisateur de documentaires et son producteur chargés de livrer un sujet à une chaîne de télévision. L'occasion de revenir sur les premiers éléments de l'enquête sur Lee Harvey Oswald, le tueur présumé du président et sans doute sur les controverses qui ont suivi. Sachant que Page réalise aussi bien des films (Queens of the Country) que des documentaires (Blood into Wine), on suppose qu'il en profitera pour critiquer les coulisses d'une production pour la télé.
Si le premier film est bien avancé et pourra logiquement sortir pour les 50 ans de la mort de JFK, la semaine du 22 novembre 2013, rien ne dit pour l'instant que ce sera le cas du second projet, plus indépendant, même si on imagine que l'équipe ne voudrait pas laisser passer une telle occasion. Après la guerre des biopics de Steve Jobs, c'est parti pour deux projets concurrents sur JFK.
En 2013, cela fera 50 ans que le Président John Fitzgerald Kennedy  fut assassiné à Dallas. C'était en 1963 et ce meurtre reste l'un des plus grands mystères de l'histoire des Etats-Unis.
Alors qu'une série a déjà été produite sur le sujet dernièrement, DiCaprio père et fils ont pour projet de réaliser l'adaptation du livre Legacy of Secrecy: The Long Shadow of the JFK Assassination, un ouvrage écrit par Lamar Waldron et Thom Hartmann.
En plus de la réalisation, Leonardo devrait interpréter le rôle de Jack Van Laningham, un informateur du FBI qui, dans le livre, annonce que le parrain de la Mafia Carlos Marcelo, lui aurait confessé avoir commandité le crime… Un futur film plein de rebondissements ?
LEGACY OF SECRECY: Leonardo DiCaprio enquête sur la mort de JFK
En novembre 2013, 50 ans se seront écoulés depuis l'assassinat du Président John F. Kennedy à Dallas. L'heure est donc aux projets tous azimuts sur JFK et les théories du complot. David O. Russell, réalisateur de Happiness Therapy, préparerait l'adaptation d'un livre de Lamar Waldron et Thom Hartmann développant des thèses inédites sur l'assassinat de JFK. Le parrain de la mafia Carlos Marcello aurait révélé à un informateur du FBI, Jack van Laningham, qu'il était derrière le complot. Leonardo DiCaprio, qui porte ce projet depuis trois ans, incarnera van Laningham et produira le film. Robert De Niro serait également de la partie.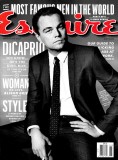 Date de dernière mise à jour : 09/10/2013